There is never a dull week in Mzansi and the second-last week of May was no exception to this rule. Things reached a tipping point From Tuesday right through to Thursday as a number of Miss South Africa hopefuls were caught at the heart of a social media storm. Bianca Schoombee, Oneida Cooper and Mthembu have basically kissed their chances of winning Miss SA goodbye after their respective pasts came back to haunt them.
The trio were the subject of a Twitter witch hunt after users uncovered some of their older, defamatory content posted as far back as seven years ago. The girls have pointed out that many of these posts were shared when they were teenagers which has opened up the debate: Should adults be held accountable for sharing bigoted opinions when they were much younger and (clearly) much dumber?
We're going to specifically focus on Bianca's case (although a search for Oneida and Zizile on Twitter will give you all the information you need).
Let's dive in.
Miss SA 2020
Miss South Africa opened its virtual doors this week and invited those who wish to walk in Zozibini Tunzi and Sasha Lee-Laurel's footsteps to submit their entries. Thousands of young women from across the country shared their online submissions this week and made a case for themselves to be the next Miss SA.
It's worth paying close attention to what the Miss South Africa organisation does and does not stand for. It clearly outlines in its code of conduct that contestants are to maintain a high moral standard and not be involved in any defamatory behaviours. Here is a quote from their CEO Stephanie Weil: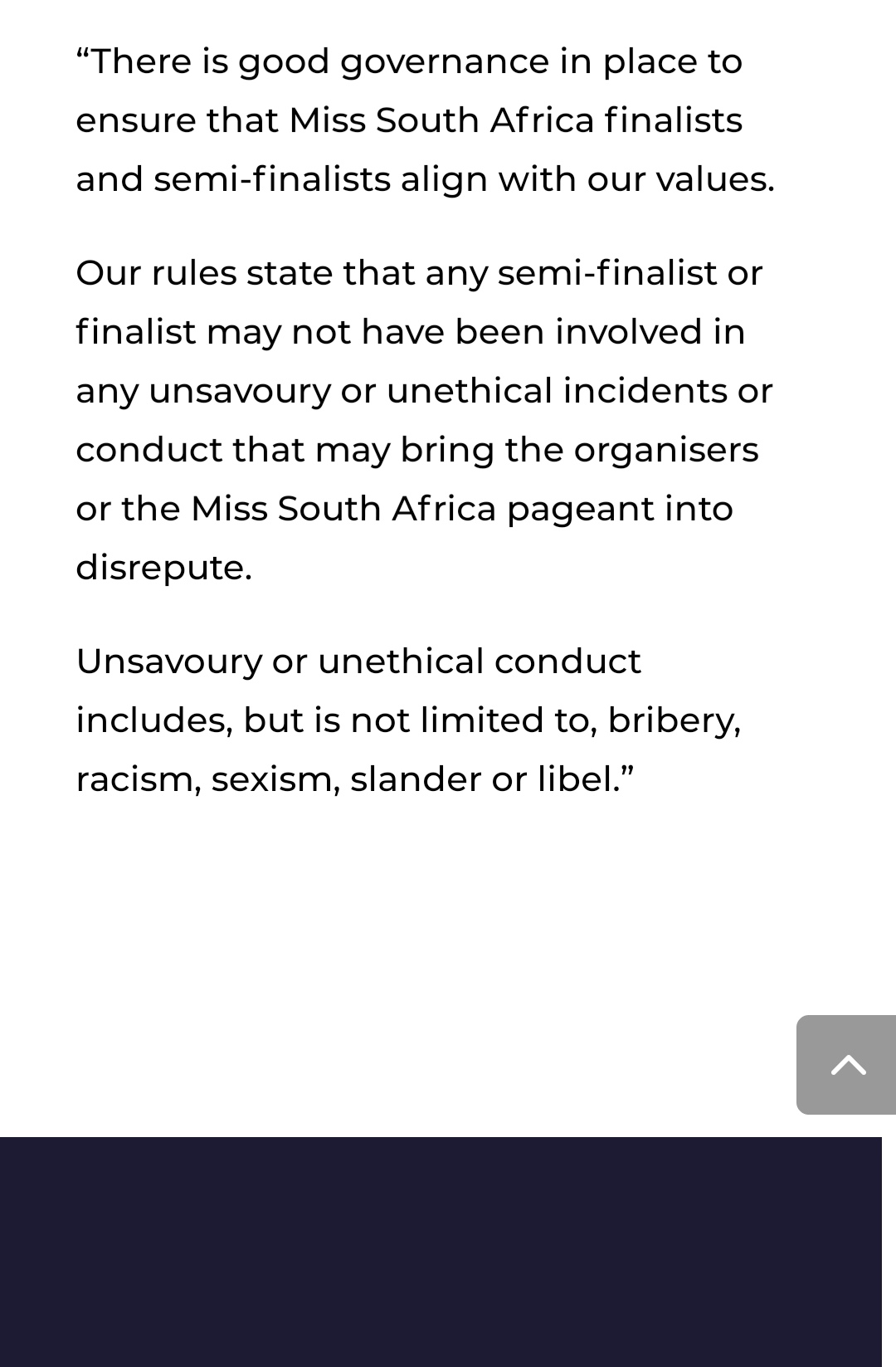 #BiancaMustFall
In a bid to protect the integrity of the competition (or something like that), dozens of tweeps brought to light some old tweets from one particular hopeful: Bianca Schoombee. The tweets were shared back in 2013 when she would have been 13-years-old; hardly an age associated with sound decision making; but the racist tones in her tweet spared her any sympathy.
After trending all day for all of the wrong reasons, Bianca was left with no other choice than to drop out of the running to be the next Miss South Africa.
When tweets come back to haunt you
We've seen this story before and it often unfolds in a number of unpredictable manners. For example, overseas we watched as Kevin Hart dealt with a similar saga; homophobic tweets were unearthed just hours after he was announced as the host of the 2018 Oscars. In the end, he had to step down.
Closer to home, celebrities such as Boity have had to deal with strong backlash after their less-tasteful tweets resurfaced years later. Boity was fortunate enough to have done a lot more good than bad in her career and was able to win the public's forgiveness after issuing a genuine apology.
Bianca, however, had no such luck. She attempted to explain her situation but it fell upon deaf ears;
Should we cancel past offenders?
Many of Bianca's biggest supporters have tried to point out that she was only a teenager during the times she shared the ill-intentioned tweets. However, as many have pointed out, being racist should not be a phase that somebody has to go through in the first place.
Bianca probably has grown up a lot from those days, and has probably shaped her mind and personality to better serve her community. But she has clearly not learned the full extent of her wrongs – or at least she hadn't until this week.
By dealing with every case as swiftly and decisively as this, we set an example that everybody will be held accountable for their behaviours and attitudes: young or not.
In conclusion – yes, you should be cancelled for tweeting racist or any other bigoted content when you were younger. If you wouldn't say it in public, don't say it on social media.