A trailblazer, if we ever saw one: Lindi Sirame is one of the hottest names in South African broadcasting right now and while 2020 has proved to be disruptive for many professionals, the television and radio presenter has seen her star rise even higher.
Currently working for Metro FM as well as Newzroom Africa, Lindi has truly established herself as a powerhouse presenter. We spoke to her about hitting her stride, being part of a radio power couple and asked for some advice during these trying times.
Let's dive right in!
Moziak Magazine: While 2020 has presented its challenges for many people, you've made waves in the world of broadcasting and journalism. How has it felt to serve your country during such unprecedented times?
Lindi Sirame: It is an honour to serve and deliver crucial information needed to empower South Africans during the current pandemic. I think now more than ever, we as journalists play a truly essential role and have the huge responsibility to make sure we are credible for the sake of not causing panic. 
MM: Having dreamt of joining Metro FM for a long time, your dream came true this year. How has the Metro family (staff and listeners) welcomed you?
LS: The Metro family has welcomed me with open arms. The team I work with on The Kings Suite has been really great and eager to make me feel comfortable on the show. Although they are more entertainment they really understand that I am a news head and allow me to share that side of me in discussions which is great.
MM: What are some of the subtle differences between presenting for television and presenting for radio?
LS: The huge diffrence is that for radio what you look like doesn't matter, it really is about your delivery and presence on air. Radio is a lot more laid back because you have the music which gives you a break from being on air. You really are there to paint a visual picture for the listener through the use of your voice. On TV your image really matters its constant reading and discussions which are usually fast-paced. The other difference is that for tv you need to do a lot more preparation for the show so you can easily do an interview for a developing or breaking story.
MM: What does your grandmother think of you as an anchor? Does she ever give you feedback/constructive criticism?
LS: I get a lot of feedback from Makhulu on the work I do. Mostly about how I look [laughs] I love how she has lived long enough to watch me on TV because she has played a huge role in my career choice. She doesn't always understand how big my achievements have been but I know she is proud.
MM: You make half of one of SA's most amazing radio/media couples. What is it like to date somebody who works in the same field as you?
LS: It's amazing to be with someone who gets what you do because it eliminates a lot of confusion and misunderstandings. We push each other to do better, we're just soooo good for each other lol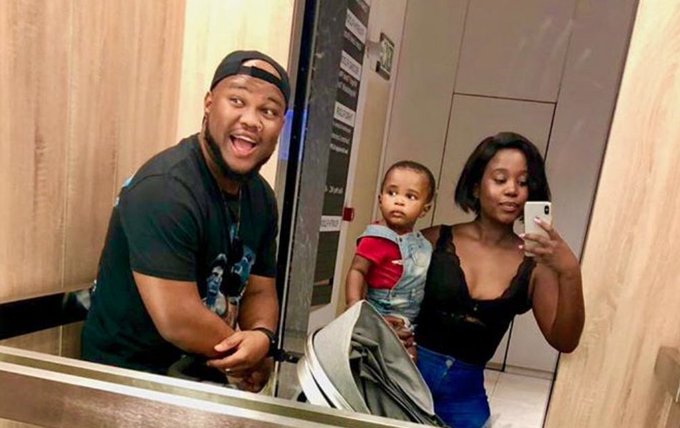 MM: Do you see your son landing up in media? (because, well…)
LS: I want to say hell no, but for some reason, he really loves the mic and performing for everyone at home. But he may also outgrow it which I'm really hoping. This industry is brutal and not loyal at all.
MM: What are you doing to keep your hair on fleek? (We only ask because we saw that tweet this week!)
LS: I have to DIY my hair. Luckily I am a hair fanatic and know how to do my own hair which has worked in my favour during the lockdown. Not too sure if it's still on fleek but I've tried to keep it tidy and clean.
MM: If you could teach our readers one thing today, what would it be?
LS: As harsh as it may side, COVID-19 has taught us the importance to adapt or die. If you cannot find ways to move with the times and situations you are faced with you will not survive.